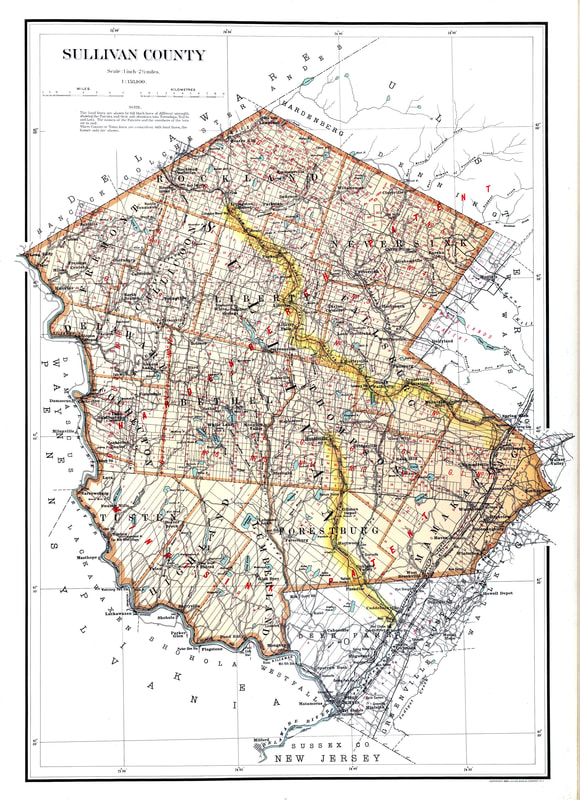 The New York Ontario & Western Railway (O&W) operated from 1868 to 1957 and ran from New York City to the shores of Lake Ontario passing through the southern Catskills and Sullivan County along the way. From its start in the late 19th century until its bankruptcy in the 1950's, the route was mainly used for transporting people, coal, and dairy to and from rural communities across New York and the New York City metropolitan area.
Through its service life, the O&W had branch lines to:
Scranton, Pennsylvania
Kingston, New York
Port Jervis, New York
Monticello, New York
Delhi, New York
Utica, New York
Rome, New York
Since it primarily relied on the coal industry for its profits, the rail line experienced financial strains during the 1920s and then steadily declined through the early to mid-20th century. As petroleum fuels, natural gas, and electricity offered more competition for the coal markets, the railroad became financially unsustainable. United States manufacturing also moved towards the south, west, and southwest during the mid-20th century. Populations started to move out of rural communities and into metropolitan areas leaving a smaller consumer market. In a last-ditch effort, the railroad stopped passenger service and tried to acquire new freight customers through the late '40s and early '50s. The railroad finally went bankrupt and liquidated its assets in 1957. The O&W railroad was the first Class I railroad in the United States to be fully abandoned. The old railroad bed is still evident in some areas along with old stations, and equipment.
For well over fifty years, the O&W ferried tourists from the sweltering New York City summers to the cooler Catskill Mountain resorts of Sullivan County.
Summitville was a junction point, where passengers could disembark and take the branch line southwest to Monticello, or northeast to Ellenville and eventually Kingston. It was here that the O&W also crossed paths with the remains of the Delaware and Hudson Canal. From Summitville, the train continued its trek northward into the Town of Fallsburg, over Tomsco Falls and into Sandburg (now Mountaindale). From there, the train made a stop at Centerville (now Woodridge) and continued across the Neversink River via the Neversink Trestle. The train then entered the Fallsburg Tunnel and proceeded to the station at Fallsburg, which currently serves as the town hall. From there, the last stop in the town was Luzon Station (now known as Hurleyville). Leaving Fallsburg, the O&W continued west into the Town of Liberty with stops in Liberty Falls (Ferndale), downtown Liberty and Parksville. Young's Gap is the highest point on the line at 1880 feet above sea level. The final journey through Sullivan County included stops at stations in Livingston Manor and Roscoe before continuing west into Delaware County.